HTML Wrap
HTML Wrap
AccountRight Plus and Premier, Australia only
Use the Notifications feature to check for issues with contributions that have been uploaded and submitted.
Click the bell icon on the Dashboard page to see how many issues need fixing, and then click Show All Notifications to create a report that lists all the notifications received.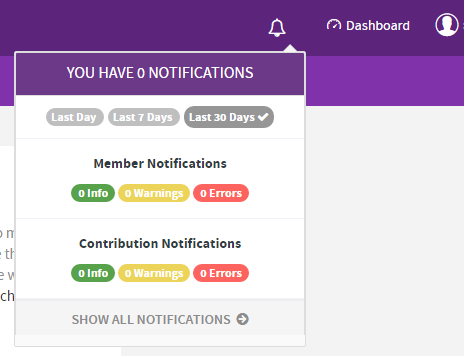 You can also view the status of contributions that have been previously uploaded to the super portal using the Historic contributions page.
UI Expand
| | |
| --- | --- |
| expanded | true |
| title | To check the status of payments |
View the Historic contributions page. (Click the Navigation button and select Contributions or Contribution History.)
The page lists the contribution files that have been uploaded, who uploaded them and the number of employee contributions that were included in the file.

The Status column shows the processing stage of the information submitted:

Icon
Name
Description
Uploading ???

The file is being uploaded and validated.

Ready for processing
The employer and employees in the contribution file have been matched with records in the super portal. There may still be some validation issues to address.
Saved and held
The batch of contributions has been set to Save and Hold and can no longer be edited.

 

 To submit the contribution file, click the grid icon

and step through the validation and review sections.

Confirmed and sent
The contributions have been submitted successfully and will be (or have been) processed.
Data matching exception
The employer or employees in the contribution file couldn't be matched with records already in the super portal. You need to fix these issues.
Invalid format
A file was uploaded that couldn't be read. It may be a file that is saved in a format that isn't supported. The file you upload must be a comma-separated text file.

If the Issues column shows there are problems with the information you've submitted:

Click the grid icon Actions column.
in the
For each employee that's listed, click into the sections that indicate an error exists. 
Click in the fields that have a red border to see a description of the issue with the information.
Fix all the issues and then click Next. 
In the Review step, fix any other issues that are identified (look for the alert icon ), and then click Next. 
You can now hold or submit the contributions. 
HTML Wrap
| | |
| --- | --- |
| width | 15% |
| class | col span_1_of_5 |
HTML Wrap
| | |
| --- | --- |
| float | left |
| class | col span_1_of_5 |
Panelbox
| | |
| --- | --- |
| name | green |
| title | Related topics |
...