https://help.myob.com/wiki/x/M4FW
Close
How satisfied are you with our online help?*
Just these help pages, not phone support or the product itself
Very dissatisfied
Very satisfied
Why did you give this rating?
Anything else you want to tell us about the help?
The latest AccountRight version is 2023.10 which was released in November 2023. What's new in the latest version?
All AccountRight updates are installed automatically, but you must restart AccountRight to complete the update.
Seeing this message?
If you see this message (even after restarting AccountRight), there's something that's stopping the auto-update, like a firewall or anti-virus software. Instead, you'll need to manually install the update.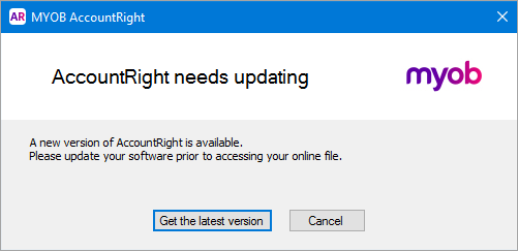 Or this message?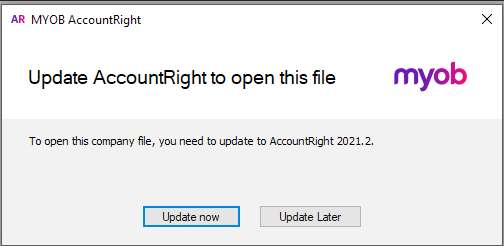 To open an online company file, you must be using the latest AccountRight version.
The above message means there's a new AccountRight version waiting for you to install. Just click Update now to restart AccountRight to complete the installation. You can then open online company files in the latest version.
Or, click Update Later to open a different (offline) company file.
Manually installing the latest version of AccountRight
To install the latest version of the AccountRight PC Edition or Server Edition, follow these instructions. If you're installing for the first time, find out which edition you should install. If you're updating, find out which edition you're currently using.
Need a helping hand?
Try our Installation troubleshooting guide or get help with two-factor authentication issues. Of course, you can also contact us and we'll be happy to help.
FAQs