https://help.myob.com/wiki/x/p4Be
Close
How satisfied are you with our online help?*
Just these help pages, not phone support or the product itself
Very dissatisfied
Very satisfied
Why did you give this rating?
Anything else you want to tell us about the help?
An "online service" is a function that uses AccountRight's online capabilities, like bank feeds, online invoicing and the In Tray. Tell me more about AccountRight's online services.
When you access an online service, if you're not already signed into your MYOB account you'll be prompted to do so. You can also sign in from AccountRight's Library Browser window (accessible by clicking Open from the Welcome window), or from the Services > Sign in to AccountRight Live menu.
Your MYOB account (my.MYOB) details were set up when you registered AccountRight, or accepted an invitation to work online. If you can't remember your password, click Forgotten your password and we'll help you out.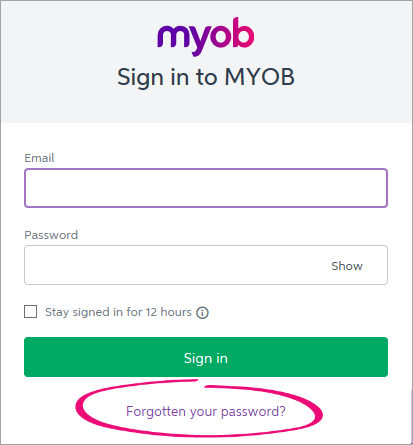 Each user needs their own unique MYOB account. They'll then have access to the online files they own, or have been invited to.
If you're the only person who uses AccountRight on this computer, select Stay signed in for 12 hours.
If there's been too many unsuccessful login attempts, your MYOB account will be locked. You'll also receive an email advising how to unlock your account.
Two-factor authentication
After entering your email address and password, you might also be prompted to enter a verification code. This is part of two-factor authentication to protect your online data.

Don't want to enter a code every time? Choose the Trust this device for 30 days option.
FAQs
How do I sign out from AccountRight Live?
How do I sign out from AccountRight Live?
In your AccountRight company file, go to the Services menu and choose Sign out from AccountRight Live. A confirmation message appears.
Click Sign out. The company file closes and the Welcome window appears.
Why am I getting an error about my computer's system date or time being incorrect?
Why am I getting an error about my computer's system date or time being incorrect?
The first thing to check is that your using the latest version of AccountRight. See Getting the latest version.
If you're on the latest version and continue to receive this error see the instructions below.
AccountRight relies on the date and time on your computer to help with synchrionising your online company file. When signing in to AccountRight Live, an error might display stating "Unable to log in. It appears that your computer's system date or time is incorrect."

Complete the following:
Close all programs, including AccountRight.
Right-click the clock in the bottom-right corner of your screen and choose Adjust date/time.

On the Date and Time tab, ensure your computer is set to the correct Time zone. If it isn't, click Change time zone and select your applicable Time zone.

If using Windows 8 or 10: Click Additional date, time, & regional settings then click Set the time and date.

Click the Internet Time tab.

Don't see the Internet Time tab?

If your computer is on a domain-based network, the workstations will not have the Internet Time tab. This is because the workstations will automatically synchronise their time with the Domain Controller (Server) each time they start up. You may need to contact your IT specialist to confirm that your Domain Controller is correctly configured to synchronise with Internet Time.

Click Change Settings.
Select the option Synchronize with an internet time server.
In the Server field, select time.windows.com.
Click Update now.
Your computer's time will be synchronised with an online time server.
When complete, click OK to close all open windows.
You should now be able to open AccountRight and successfully sign in to AccountRight Live.
If the above steps didn't work, talk to your IT specialist, as only they will be able to diagnose the specific cause in your system of the date or time error.