https://help.myob.com/wiki/x/soaU
Close
How satisfied are you with our online help?*
Just these help pages, not phone support or the product itself
Very dissatisfied
Very satisfied
Why did you give this rating?
Anything else you want to tell us about the help?
YourPay is no longer available for Australia
In the new MYOB Essentials (also known as MYOB Business), you'll need to use the MYOB Team app.
YourPay is a web page that works with MYOB Essentials where your employees can enter timesheets and check their last 5 payslips. It works on any browser via a smartphone, tablet or computer, so they can access it anywhere - and no need to download an app.
For you, it means a simpler pay day with more accuracy and less admin – employee hours and notes are automatically imported into the pay run, and payslips are sent straight to YourPay for your employees to access. And it's all part of your subscription – no extra charge. Don't want to use YourPay? You can still enter your employees' hours manually.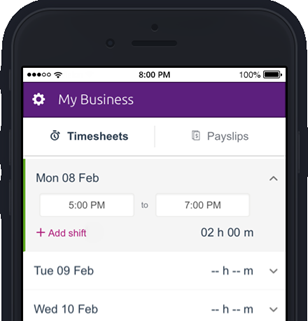 Inviting employees to use YourPay
Inviting employees to use YourPay

Go to Employees.
Select the employee you want to invite.
In the Employee details tab, click Invite employee to YourPay. (If there's no email address listed for the employee, you'll be prompted to add one).

We'll email your employee with details about joining YourPay, plus a link they can access it from.

Select This employee will fill in timesheets in the Pay details section of the employee card to allow the employee to enter timesheets.
FAQs