https://help.myob.com/wiki/x/SoWU
Close
How satisfied are you with our online help?*
Just these help pages, not phone support or the product itself
Very dissatisfied
Very satisfied
Why did you give this rating?
Anything else you want to tell us about the help?
YourPay is a website which works with MYOB Essentials where you can enter timesheets and check your last 5 payslips. It works on any browser via a smartphone, tablet or computer, so you can access it anywhere - and no need to download an app.
When your employer invites you to YourPay, you'll receive an email with a link. Can't find the email? Ask your employer to resend it, or access YourPay at https://yourpay.myob.com. (You'll need to sign in with the MYOB account you were asked to create).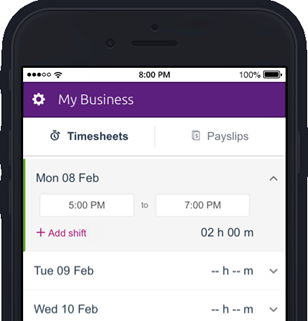 Save https://yourpay.myob.com to the home screen of your smartphone for quick access. How? It depends on the phone, but usually involves opening the webpage and selecting Add to home screen from the browser menu.
FAQs