This information applies to MYOB AccountRight version 19. For later versions, see our help centre.
https://help.myob.com/wiki/x/uQGc
ANSWER ID:9254
There's a few things which will cause this error: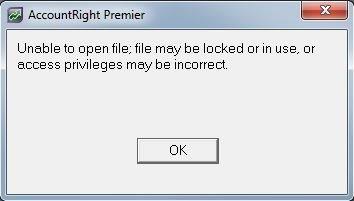 If you're getting a different error, search our help for the wording or code shown on the error message.
Here are the most common causes for the above error and their solutions.
Cause
Solution
The folder containing the company file is not fully shared

If the company file is shared through network access to a shared folder, this folder must be fully shared and all users of the company file must have full access to the folder.

A windows user account identifies a person to a computer system or network, and each user account can be set to allow or restrict users from certain areas of the computer system.

We strongly recommend that you log onto your system with Administrator access. Windows user accounts set with limited access may experience difficulties in using some of the advanced features within AccountRight. For example, it may stop them from using the OfficeLink function to create personalised letters, sending reports to Excel, or using the ODBC Direct Driver.

To determine a user's access privileges

Click the Windows Start button and choose Control Panel.
Click Administrative tools then click Computer Management.
In the left pane click Local Users and Groups and then double-click click Users in the right pane.
In the right frame, locate the current user's name that is logged into Windows.
Right click their name and select Properties. In our example the Windows User Account name is Roger.

Click the Member Of tab and note what Windows User Access group that this user belongs to. In our example, Roger is part of the 'Users' group which only allows access to basic function within the Windows operating system.


 

How do I allow members of this Windows User Access group to have full access to company files?

Open Windows Explorer by simultaneously pressing the Windows and E keys on your keyboard.
Locate and right-click your current version MYOB folder and choose Properties.

Depending on your AccountRight version, here is the default location of the AccountRight folder:

 

If you're using
Your AccountRight folder is here
(v19.12 or earlier)
Your AccountRight folder is here
(v19.13 or later, Australia only)
AccountRight Standard v19

C:\Standard19

N/A
AccountRight Plus v19

C:\Plus19

C:\PlusClassic

AccountRight Premier v19

C:\Premier19

C:\PremierClassic

AccountRight Enterprise v19

C:\Enterprise19

C:\EnterpriseClassic

Click the Security tab.
Click Edit then click Add. This allows you to include the Windows User Access group to the list.

Click Advanced.

Click Find Now.

Select the Windows User Access group you wish to give full access to company files, then click OK. In our example it was the 'Users' group.
Click OK to add this group.
Highlight the newly added Group then place a tick in Allow under the Full Control section. Click Apply then click OK.

Repeat this process for any other Windows User Access group that requires full access to company files.

This process can be undertaken for individual users as well as groups as per the steps above. Placing a tick in under the Full Control section for the Everyone group is also another option.

The company file is set to "Read only"

It's possible that your company file has been set to 'Read-only'. This can occur if the company file has been copied from a removable storage device, like a USB stick.

To check this:

Go to the location on your computer or network where your company file is stored.
Right-click the company file and choose Properties.
Ensure the Read-only option is deselected.

Click OK.

The workstation is not mapped correctly to the host

The remote network location should be accessed by each workstation through a 'Mapped Network Drive' rather than by browsing though the 'Network Places' to open it.

For instructions on mapping network drives see the AccountRight help (Australia | New Zealand).

The first user to log on has selected single-user mode (multi-user versions only)

If the first user to log on to your company file selects 'single-user mode' at the log-in screen, all other users will be locked out of the file.

To solve this, simply have the first user log out and then log back in making sure that the 'Multi-User' option is selected.

AccountRight is being accessed over the network

AccountRight is designed so that only the company file is shared over the network. Each workstation should have the software installed and run locally. If you try to run the software over a network, in addition to poor performance, access errors may occur.

Make sure each user is running the program locally though they access data on the network.

Your computer disk hasn't got enough space
The machine hosting the company file, or the workstation, having insufficient disk space. Delete unwanted or unnecessary files from the machine in question to overcome the issue.
Your AccountRight shortcut is corrupt
You can delete the shortcut and create a new one. See Setting up a shortcut to your company file.
The file you've chosen is not an AccountRight company file

If the following error is displayed, you're attempting to open an unrecognised company file:

Company files have the file extension .myo (for example MyCompanyFile.myo). In earlier MYOB software versions like Accounting and Accounting Plus, these files had a .dat extension, and in Premier they had a .prm extension. You can check to see if the company file you are trying to open has any of these extensions through Windows Explorer.

If the file you are attempting to open does not have the file extension .myo, .prm, or .dat then it is most likely not an MYOB company file and cannot be opened in your MYOB software.

The company file is corrupt

To check if your company file is corrupt, try and open a different company file. If this opens without issue, it indicates the original company file is corrupt.

If the company file is corrupt we recommend you try to optimise the company file as some minor corruptions can be fixed by this process.

To run the optimisation:

Click the Windows Start button and choose Programs (or All Programs).
Select your product from the menu then choose MYOB Tools then choose MYOB Optimisation Assistant.
Follow the on-screen instructions.

If the error message occurs after optimising your company file, you will need to restore the most recent backup you have available.

MYOB also offer a data file repair service - check our website for more details (Australia | New Zealand)

There are "lock" files on your computer
Remove the lock files as described in this support note.