https://help.myob.com/wiki/x/SIB2
Close
How satisfied are you with our online help?*
Just these help pages, not phone support or the product itself
Very dissatisfied
Very satisfied
Why did you give this rating?
Anything else you want to tell us about the help?
AccountRight looks similar to your old software, but in fact it's been built from the ground up to take advantage of the online business world. So we've prepared this cheat sheet to address some of the things customers find different after they move to the new AccountRight, as well as some enhancements you might not be aware of. 
Bookmark this page for future reference (press CTRL+D).
There's things you don't need to do anymore
If you store your file online:
| you can forget about... | because: |
| --- | --- |
| Verifying & optimising your company file | Your file is automatically optimised online |
| Losing your data | Your data is secure and always up to date. You don't have to worry about your computer crashing or losing your data in a disaster |
| Sending data to your accountant on thumb-drives or via email | You can share your file with your accountant online in real time. And you don't have to put journal adjustments back into the file anymore; your accountant can do that without disrupting your work. |
| Manually checking for software updates | AccountRight checks for any updates you're entitled to. If an update is available, you will be prompted to download and install it. |
| Requiring Microsoft Outlook to send emails from AccountRight | You can choose to email invoices and other forms directly from AccountRight—no Outlook required. Or, you can keep using Outlook—it's up to you. |
There's lots of new things you can do
It's likely you've moved to the new AccountRight to get the time saving benefits of doing business online, or to be compliant with Single Touch Payroll. If you haven't already done so, connect up your 
online services
 and start working smarter.
| The new things online services enables you to do include:    |   |
| --- | --- |
| | |
Here's what others are saying about online services: 
The automatic banking reconciliations are great for us. They save me about an hour month as I don't have to search where money is coming from.
Jan Benton, Benton General Builders
I've been using bankfeeds right from the start and love them – they are a huge time saver and make reconciliations so much easier
Mandy Watson, Gondwana Ecology
The bank feeds are an absolute time saver and a must. Anyone who doesn't use them is mad!
Coralie Hurley, Commercial Passion
Here's some things that have changed
Company file and security changes
Company files are now stored in the AccountRight 'library'. The library can be located on your computer, on a network computer on online and makes it easier to manage your company files. Find out more about libraries.

User access to company files is now managed by 'roles'. Previously you needed to decide which windows and functions that a user of your company file was allowed to access. Now you just assign 'roles' to each user. Learn about user access.
Reports
Session Report is now called the Journal Security Audit report (listed under Security and Audit in the Accounts report group). This new report gives you more detail about changes made to transactions during a selected session and can be run at any time, even after closing and reopening the company file.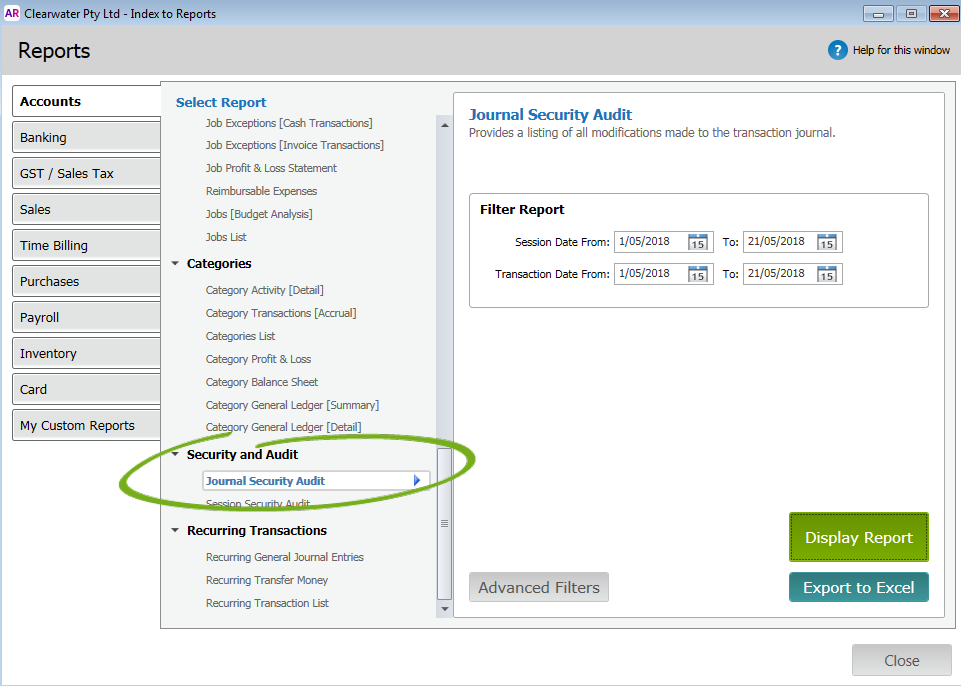 Data entry changes 
Inserting a line in a transaction. To insert a line item, you now use right-mouse-click Edit > Insert Transaction Line . To add a blank line, use Edit  > Insert Blank Line .   

Deleting a transaction line from a transaction. Previously, you could remove a transaction line from a transaction using the DELETE or backspace key to remove info in each column. Now, you need to right-mouse-click the line and select  Delete Line .

Action menu replaced by right- mouse- click command. When you right-click your mouse in  any window,  a menu of related tasks appears . This replaces the Action menu in the Card Information window or the  Reconcile Accounts  window .
   

Refreshing data.  In some windows, for example, the Find Transactions  window, you now  refresh changes to the window (such as  changes to f ilter s ) by clicking a button in the top right corner . To save changes in other windows,  such as transaction windows,  you need to record or close them.    

Date entry calendars.  There are more options when entering dates, for exam ple,  y ou can now  directly select the year , as well as the current day . You can open the date calendar by  click ing the arrow next to the date field or put ting the cursor in a date field and press ing the Spacebar on your keyboard.

   
Keyboard shortcut

changes
Here's some keyboard data entry changes you should know about.        
Command

 

v19 shortcut

 

New shortcut

 

Insert

Transaction

Line

 

CTRL+SHIFT+I

 

Insert Blank Line

 

Date Entry Calendar

 

= (equals)

or

SPACEBAR

 

SPACEBAR

 
See our list of keyboard shortcuts in AccountRight.  
Fonts
In AccountRight Classic, you had the ability to set default font sizes and font types for windows, forms and report. This feature isn't available in the new AccountRight, however you do get the ability to change the font for:
AccountRight Idea Exchange
.
Optimise the performance of your AccountRight.
There are a number of things you can do to optimise
AccountRight's
performance. See Speed and performance tips
for more information.
Want to explore further?