https://help.myob.com/wiki/x/BKhqAg
Close
How satisfied are you with our online help?*
Just these help pages, not phone support or the product itself
Very dissatisfied
Very satisfied
Why did you give this rating?
Anything else you want to tell us about the help?
Australia only
When you do a pay run, you'll report it to the ATO for Single Touch Payroll (STP) reporting. You can view your submitted payroll reports in the STP reporting centre (Payroll menu > Single Touch Payroll reporting > STP reports tab).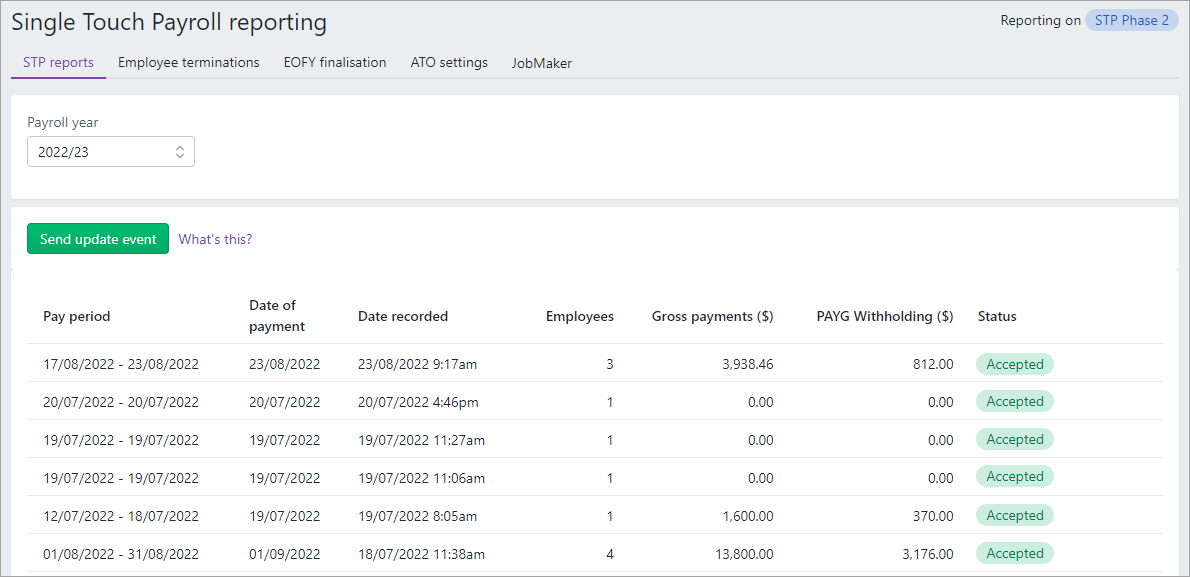 On the STP reports tab you can:
view your submitted STP reports (one report per pay run)
send an update event to the ATO to sync your payroll data (STP Phase 2 only)
download a PDF report showing what has (and hasn't) been sent to the ATO
send payroll reports that are yet to be sent (those with a status of Not Sent)
view the ATO's response to a submission (to help troubleshoot rejected reports)
Report statuses
Here's a description of each report status you might see in the payroll reporting centre and what to do if something needs fixing.
FAQs