HTML Wrap
HTML
<span data-swiftype-index="true">
HTML Wrap
If you've received an email or in-product message that your MYOB Essentials file (or if you're an MYOB Partner, your client's files) will be upgraded soon, here's some things you should do before the upgrade to help make it go smoothly.
What you need to do depends on the features you currently use in MYOB Essentials.
MYOB Partners only
UI Text Box
(Important) Review user access
Check users. We aim to bring all users who have been invited to the file across in the upgrade. If we find discrepancies in user lists across different systems, or we see a potential issue where users are across multiple practices, we may need to remove those users from the file on upgrade. Therefore, we encourage you to review your contacts and clean up any old users to minimise disruption – see Users (Partner Dashboard).
Control access to restricted files. If you have restricted client files, you should control access to restricted clients before upgrade.
Coding report changes
If you ran coding reports for clients in old MYOB Essentials, you may notice that notes that you added to them don't come across in the upgrade. That's because you use the edit function on the Bank transactions page to add notes in new MYOB Essentials.
If you want to add any missing notes to the Coding report after upgrade, we recommend that you retain the coding reports you've sent your clients.
Complete your reconciliation
Check the bank reconciliation for any saved bank recs and complete them.
(Australia only) Using MYOB Essentials with Payroll?
There's a few things you should consider doing in your old software before the upgrade. If you:
(Australia only) Using MYOB's super portal?
If use MYOB's super portal to pay employee super and:
UI Text Box
After upgrading, you'll need to sign up to the Pay Super service to pay superannuation from the new MYOB Essentials. This replaces MYOB's super portal. You'll be prompted to set this up when you open your upgraded MYOB Essentials.
Default email messages
The new MYOB Essentials has a limit of four thousand characters in default email text. If you've set up really long default email messages, you might need to shorten them, otherwise they'll be truncated after upgrading.
UI Text Box
If you have a lot content you currently put in your default email messages, such as legal notices, and the content is online, you can add a link to it in your default email text: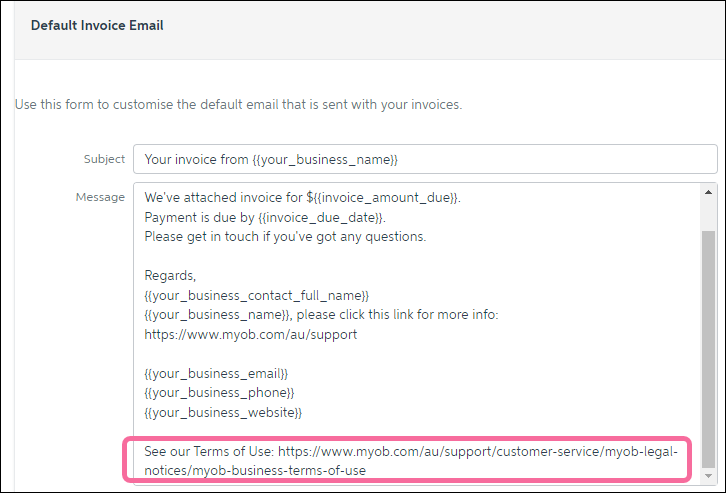 Image Added
What happens after the upgrade?
When you open the new MYOB Essentials it will look similar to the old MYOB Essentials, but there's a lot that's new to learn. So, when you open the new MYOB Essentials we'll step you through the changes.
There will also be help topics and other support to help you get used to the new product.
For more information on the upgrade of MYOB Essentials:
HTML Wrap
| | |
| --- | --- |
| width | 15% |
| class | col span_1_of_5 |
HTML Wrap
| | |
| --- | --- |
| float | left |
| class | col span_1_of_5 |
Panelbox
| | |
| --- | --- |
| name | magenta |
| title | Related topics |
HTML Wrap