https://help.myob.com/wiki/x/Si7nAQ
Close
How satisfied are you with our online help?*
Just these help pages, not phone support or the product itself
Very dissatisfied
Very satisfied
Why did you give this rating?
Anything else you want to tell us about the help?
New Zealand only
Paid parental leave is a government scheme for eligible working parents (check the Employment New Zealand website for eligibility criteria). If eligible, government payments go directly to the employee taking parental leave. This means you won't need to record those payments in MYOB Essentials.
Annual leave on parental leave
An employee on parental leave will still accrue annual leave. To handle this in MYOB Essentials, you'll need to process zero dollar pays for the employee while they're on parental leave - this ensures their annual leave continues accruing as normal. When the employee returns to work, you can start paying them again as normal.
OK, let's step you through it.
If our solution below doesn't meet your needs, you might need to discuss your options with an accounting advisor.
Use the Notes tab in an employee's record to document parental leave dates and any available leave owed on commencement (Payroll menu > Employees >click the employee > Notes tab).
Check the employee's leave setup
To ensure the employee continues to accrue leave while on parental leave, ensure they're set up for "fixed leave accrual.
Go to the Payroll menu and choose Employees.
Click to open the employee's record.
Click the Leave tab.
Select the hrs/year (fixed) option and enter the number of annual leave hours per year the employee is entitled to.
Click Save.
Process the employee's pay runs while on parental leave
Process the employee's pay runs while on parental leave
When the employee is on paid parental leave, continue processing their pay runs as you normally would—but remove all hours and amounts. You'll also need to enter the Days being paid this period, which is the number of days they'd normally work. Take a look at this help topic if you need a refresher.
This means their pay will be for zero dollars.

Finish the pay run as normal (it's up to you if you want to print or email the pay slip).
The employee's annual leave will continue to accrue. You can check their leave balance on the Leave tab of the employee's record (Payroll menu > Employees > click the employee's name > Leave tab).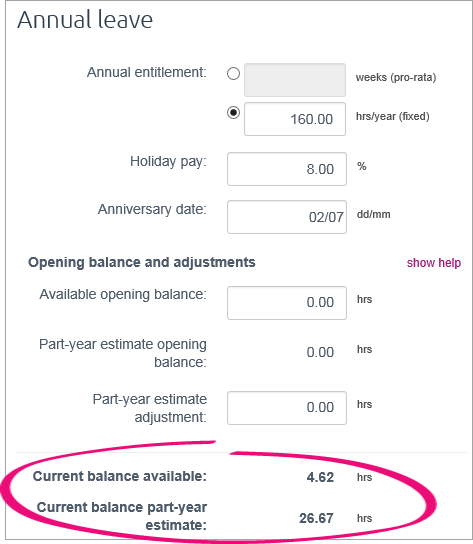 Paying annual leave at the AWE rate
There is a section in the parental leave act that states any annual leave entitlement given either during, or within 12 months of an employee returning from parental leave, is to be paid at the average weekly earnings (AWE) rate only, although you can choose to still pay at the higher of AWE and ordinary weekly pay (OWP).
Any leave owed on the parental leave commencement date is paid normally. This means you can have scenarios where an employee has a leave balance 180 hours - 20 of which is paid at the standard rate (owed prior to parental leave), and 160 hours which can be paid at AWE only.
Take a look at how to manage this:
Adjust annual leave rate for AWE only
On the annual leave rate calculation screen, select Use Ordinary weekly pay (OWP) formula.
Enter 0.00 for both the Gross earnings in the past month and Total contracted hours for 4 weeks fields.

The green tick now appears beside the average weekly earnings Hourly rate.
Click Save to continue.