https://help.myob.com/wiki/x/XoBW
Close
How satisfied are you with our online help?*
Just these help pages, not phone support or the product itself
Very dissatisfied
Very satisfied
Why did you give this rating?
Anything else you want to tell us about the help?
If your computer meets the recommended system requirements, you're ready to go. If you'll be using AccountRight in a network, see Set up a network. If you're already using AccountRight and you're looking for the latest version, see Getting the latest version.
Right-click Download and choose Save link as or Save target as to save the installation file to your computer (an AccountRight subscription is required or you've been invited to access an online file).


Double-click the downloaded file to start the installation.

Once AccountRight is installed, you'll see a shortcut icon for AccountRight on your desktop. You can then delete the installation file.

If you no longer need a previous AccountRight version you can uninstall it.
Having trouble installing AccountRight?
Some antivirus software can interrupt software installation. If you have issues installing, try temporarily disabling your antivirus software and enable it again after installing. If you need some more installation help, see Installation troubleshooting.
Who can use AccountRight?
You can use the latest AccountRight version to enter data if you:
have been invited to access an online company file (learn more about accepting an invitation), or

want to trial AccountRight or you need it for study purposes (learn more).
If you don't have an AccountRight subscription, company files you create or upgrade in the latest AccountRight version will become read-only after 30 days.
If you're already using AccountRight, you can check the version in the Welcome window that appears when you start AccountRight. The AccountRight shortcut on your desktop also contains the version number.
How to install AccountRight
How you install AccountRight depends on where you bought it. Here's how to get started.
Bought online?

If you purchase AccountRight from the MYOB website, you'll be prompted to download an installer file that will take care of the installation for you.

While AccountRight installs, you'll enter some basic information about your business, like your contact details, and when installation is complete, you'll have a company file ready for you to use.

If you can't find the installer file, see the email MYOB sent you after purchasing AccountRight. The email has a link to the installer and more details on how to install AccountRight.

Downloaded from my.MYOB or the MYOB website?

Right-click the Download link on the website and choose to save the file to your computer (it'll be a .exe file).

If you downloaded the installer to your desktop, it will look similar to this:

Double-click the file and you'll be guided through the installation.
Updating AccountRight on multiple computers
If you work on a company file on more than one computer, ensure you install updates on each computer before upgrading your company file.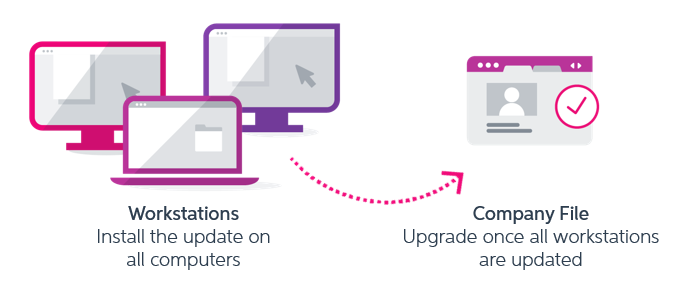 Using AccountRight in a network? See Set up a network or Updating an AccountRight network.
Installation FAQs
Can I install AccountRight on a Mac?
Can I install AccountRight on a Mac?
AccountRight is designed for use on the Windows operating system. Consider using MYOB AccountEdge which is designed for the Mac, or MYOB Essentials which runs in a web browser and can be used on both on Windows and Mac.
If you want to install AccountRight on an Apple Mac, you'll need to install Windows on your Mac first. You can do this using Boot Camp (a Mac utility that allows you to install other operating systems) or virtual software such as Parallels or WMware. Note that running AccountRight on virtual software may affect performance and speed. And while many users report a good experience, it's not tested or supported by MYOB.
How do I uninstall AccountRight?
How do I uninstall AccountRight?
When you uninstall AccountRight, only the software is removed. Your company files and customised templates are not affected.
To uninstall AccountRight:
Access the list of programs that are installed on your computer.

| If you're using | Do this |
| --- | --- |
| Windows 10 | Right-click the Windows Start button and choose Apps and Features. |
| Windows 8 | Right-click in the screen's bottom-left corner and choose Programs and Features. |
| Windows 7 | Click the Windows Start button and choose Control Panel then choose Programs and Features. |

Click the AccountRight software you want to uninstall then click Uninstall. In some Windows versions this may appear as Change/Uninstall.

Click through any confirmation windows, and click Yes to wanting to completely remove the selected application and all of its components.
Need a helping hand?
Try our Installation troubleshooting guide, or contact us.
What's next?
After installing AccountRight, you can create a company file to start entering your business data (or start using one that you've been invited to). See New to AccountRight? Start here.