HTML Wrap
div
Do not delete this page - MYOB Practice navigates to it from within the product
HTML Wrap
The Client workspace page gives you an at-a-glance overview of where everything's at for a client. This saves you from needing to click into multiple sections in MYOB Practice to get the information you need.
To view a client's workspace, either click a client's name in the Contacts list or in Client sidebar.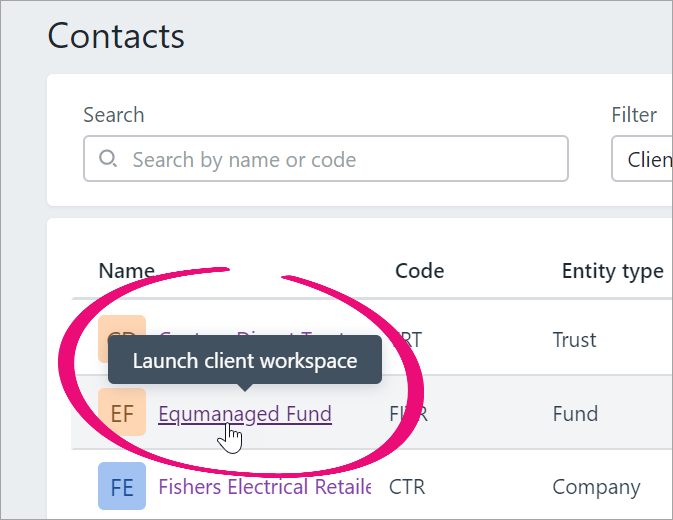 UI Text Box
If you're selecting a client in

My List

the sidebar

for the first time in the current session, you'll see the Client workspace page. For the rest of the session you'll see the last page you accessed for them. If the workspace doesn't appear, click the client's name in the top menu bar to display it.

 
UI Expand
| | |
| --- | --- |
| expanded | true |
| title | Features in the client workspace |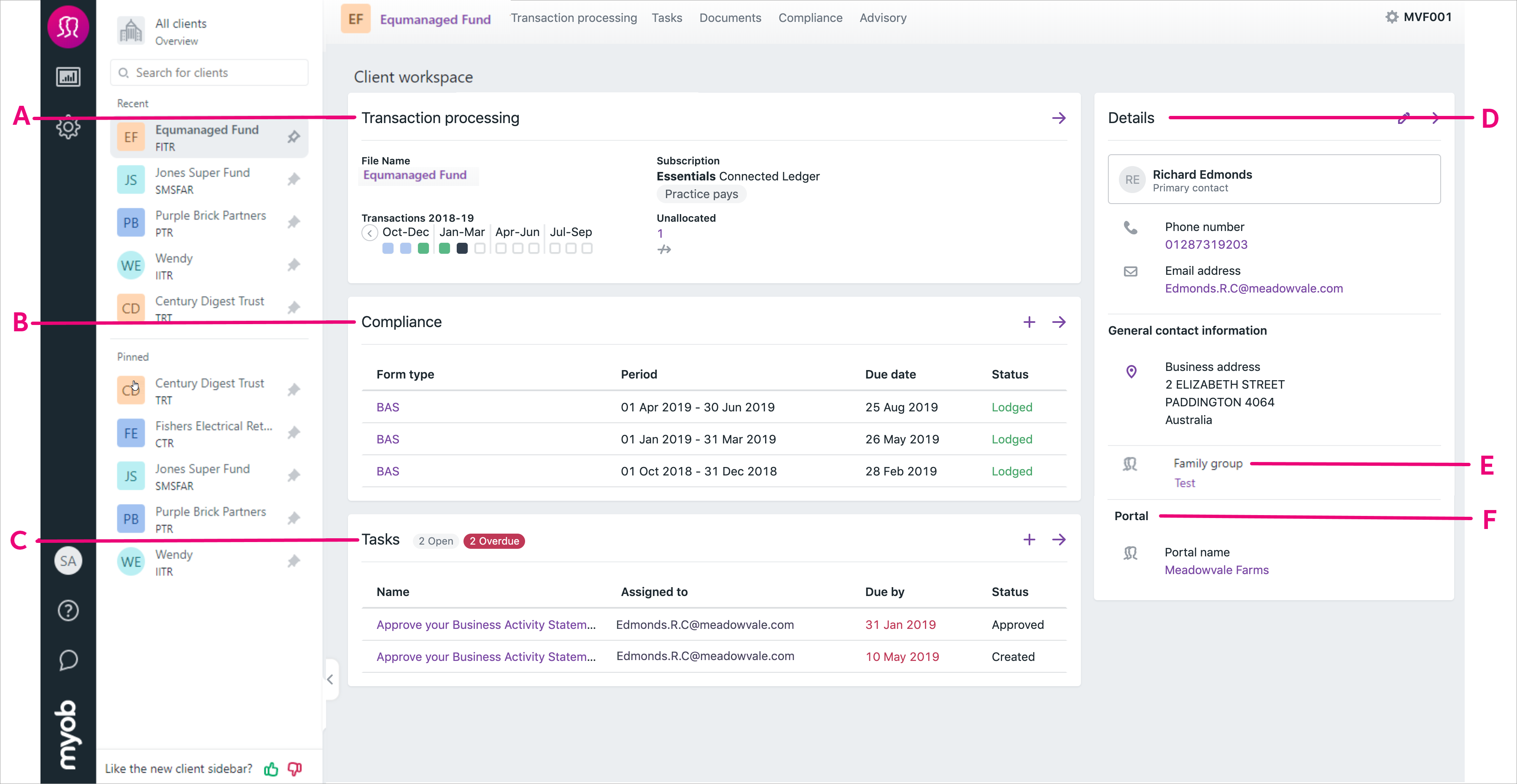 Features
Shows

A

MYOB Essentials or AccountRight, Cashbook file's transaction coding status.

B

compliance forms such as activity statements and tax returns. Use the + to create a form from here.

C

Tasks
outstanding tasks sent to your client.

D

Details
details like address, phone number

E

Family group


(AE/AO users only)

the family group the clients belong to. Click the family group name to view all the clients in that family group. To see the associations and relationships, click → in the Details section.

This is a read-only field. Go to AE/AO to make any changes to family groups and associations.

F

Portal
client's portal name.
UI Text Box
If you need more details or want to see a complete list, click the → arrow buttons.
UI Text Box
We'll be adding more information to the workspace soon, but if you have any suggestions on what you'd like to see, click the feedback link on the workspace page to let us know.
HTML Wrap
| | |
| --- | --- |
| width | 15% |
| class | col span_1_of_5 |
HTML Wrap
| | |
| --- | --- |
| float | left |
| class | col span_1_of_5 |
Panelbox
| | |
| --- | --- |
| name | green |
| title | Related topics |