HTML Wrap
HTML
<span data-swiftype-index="true">
HTML Wrap
It's easy to get started. Once your AccountRight software is installed, you'll need to create a company file to store all your financial data, and then you're ready to go.
For an overview of what AccountRight can do for you, watch this video.
HTML
<div class="wistia_responsive_padding" style="padding:56.25% 0 0 0;position:relative;"><div class="wistia_responsive_wrapper" style="height:100%;left:0;position:absolute;top:0;width:100%;"><iframe src="//fast.wistia.net/embed/iframe/tgbxlcq8c2?videoFoam=true" title="Wistia video player" allowtransparency="true" frameborder="0" scrolling="no" class="wistia_embed" name="wistia_embed" allowfullscreen mozallowfullscreen webkitallowfullscreen oallowfullscreen msallowfullscreen width="100%" height="100%"></iframe></div></div>
<script src="//fast.wistia.net/assets/external/E-v1.js" async></script>
UI Text Box
Get up to speed quickly with AccountRight
Have a go at our online courses that let you learn at your own pace, and you can access them at any time. They take just a couple of hours to complete - but you don't need to complete it all at once. And if you need more, there's an awesome range of online training courses you can complete. Start learning now.
Do you have a company file?
An AccountRight company file contains all your business data. If you:
Logging out
When you need to close AccountRight, the best way to exit the program securely is to go to the File menu and choose Exit.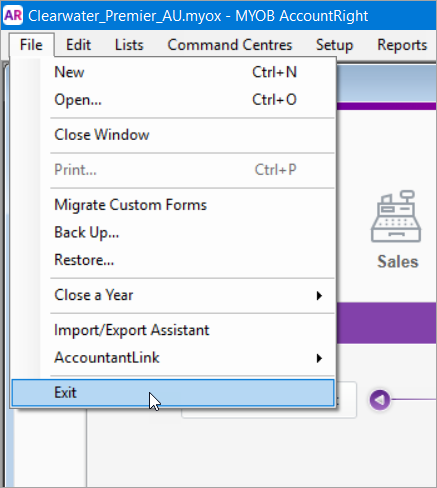 HTML Wrap
| | |
| --- | --- |
| width | 15% |
| class | col span_1_of_5 |
HTML Wrap
| | |
| --- | --- |
| float | left |
| class | col span_1_of_5 |
Panelbox
| | |
| --- | --- |
| name | green |
| title | Related topics |
Panelbox
| | |
| --- | --- |
| name | yellow |
| title | From the community |
RSS Feed
| | |
| --- | --- |
| titleBar | false |
| max | 5 |
| showTitlesOnly | true |
| url | http://community.myob.com/myob/rss/search?q=Getting+started&filter=labels%2Clocation%2CsolvedThreads&location=forum-board%3AAccounting_Software_General&search_type=thread&solved=true |