HTML Wrap
HTML
<span data-swiftype-index="true">
HTML Wrap
You might be prompted to back up your company file before closing it.
UI Text Box
If you don't want to be reminded to back up
To switch off the reminder, select the Don't show again option.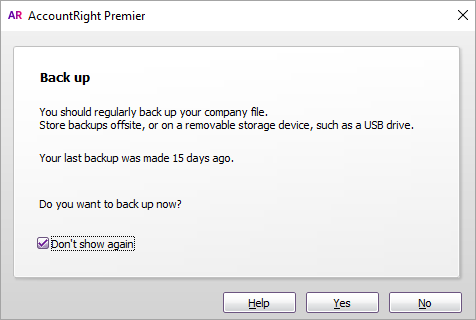 To switch this preference back on, go to the Setup menu > Preferences > Security tab > select the option Prompt for Data Backup When Closing.
 A A backup is a copy of your company file at a point in time.
Learn more about backing up and restoring company files.
How often you back up the company file depends on whether the file is online or not.
If you work online
When working online, you don't need to back up your company file regularly, as MYOB automatically backs up your data online weekly and retains it for six months.
However, you might want to back up your online file before starting a task that will result in significant changes, such as closing a financial year or importing data. You would also make a backup if you want to archive a copy of the file at a point in time, such as month-end.
UI Text Box
AccountRight 2020.2 and later
Nobody will be able to work on the file during a backup. When you start backing up, you'll receive a message letting you know who else is signed in.
This gives you a chance to let the other users know they need to save their work and sign out. Once you start the back up, anyone who is signed in will be signed out. For more information, see Important changes in AccountRight 2020.2.
If your file is not online
If you're not working online, you should be backing up your company file regularly. A recent backup is a security measure that will help minimise the rework required if your company file is lost or damaged.
You should store your backups on an external storage device, and consider keeping a copy of the backup offsite.
HTML Wrap
| | |
| --- | --- |
| width | 15% |
| class | col span_1_of_5 |
HTML Wrap
| | |
| --- | --- |
| float | left |
| class | col span_1_of_5 |
Panelbox
| | |
| --- | --- |
| name | green |
| title | Related topics |
Panelbox
| | |
| --- | --- |
| name | yellow |
| title | From the community |
RSS Feed
| | |
| --- | --- |
| titleBar | false |
| max | 5 |
| showTitlesOnly | true |
| url | http://community.myob.com/myob/rss/search?q=backing+up+company+files&filter=labels%2Clocation%2CsolvedThreads&location=category%3AAccountRight&search_type=thread&solved=true |