HTML Wrap
HTML
<span data-swiftype-index="true">
HTML Wrap
AccountRight Plus and Premier, Australia only
UI Text Box
If you're registered for Single Touch Payroll (STP), there's no need to prepare payment summaries so we've removed that option from the Payroll command centre. If an employee needs a copy of their income statement (payment summary), they can access these details through myGov. Visit the ATO for more information.
Stay compliant by using the latest AccountRight version, and see how we've simplifed your end of payroll year.
If you're registered for STP but you need to complete a payment summary (confirm with the ATO if you're not sure), you'll need to complete a manual payment summary for the employee using forms available from the ATO.
If another party will be lodging the payment summaries for you, or you're a third party service provider - such as a bookeeper, registered tax agent or accountant - preparing payment summaries on behalf of another business, complete the Service Provider Details step of the Payment Summary Assistant. The ATO may need to get in touch with you if there are any issues with the information submitted.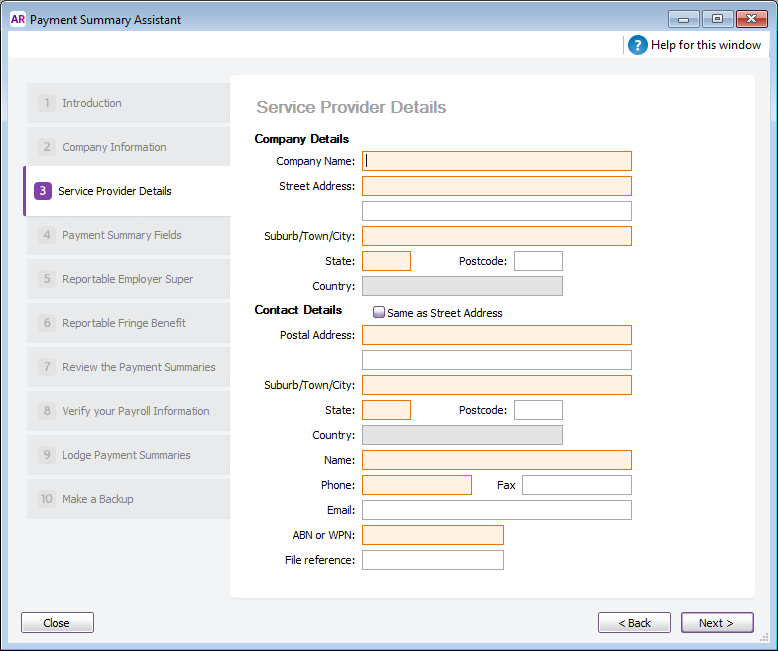 Note that this step is only accessible if the I use a third party service to lodge my payment summaries option was selected in the Company Information step of the assistant.
Once you've entered the details, continue with setting up the payment summary fields.
HTML Wrap
| | |
| --- | --- |
| width | 15% |
| class | col span_1_of_5 |
HTML Wrap
| | |
| --- | --- |
| float | left |
| class | col span_1_of_5 |
Panelbox
| | |
| --- | --- |
| name | green |
| title | Related topics |
Panelbox
| | |
| --- | --- |
| name | yellow |
| title | From the community |
RSS Feed
| | |
| --- | --- |
| titleBar | false |
| max | 5 |
| showTitlesOnly | true |
| url | http://community.myob.com/myob/rss/search?q=payment+summaries&filter=labels%2Clocation%2CsolvedThreads&location=forum-board%3AStaffing_and_Payroll&search_type=thread&solved=true |