https://help.myob.com/wiki/x/2IWO
Close
How satisfied are you with our online help?*
Just these help pages, not phone support or the product itself
Very dissatisfied
Very satisfied
Why did you give this rating?
Anything else you want to tell us about the help?
If you try to record a transaction that would result in a negative inventory balance (physical quantity or dollar value), you will receive a negative inventory balance alert like these: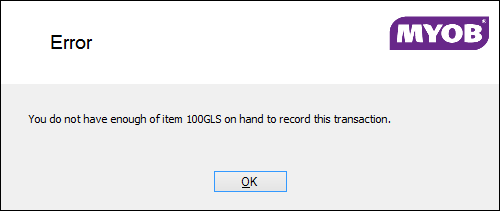 AccountRight uses the average costing method of recording inventory, which
To overcome this alert, you'll need to do an inventory adjustment for the items appearing in the negative.
Managing an inventory is an important part of your business. To get the most out of AccountRight's inventory management system, learn from an expert in our Inventory Management training course.
FAQs