HTML Wrap
HTML
<span data-swiftype-index="true">
HTML Wrap
Australian businesses that are registered for GST or have employees need to regularly lodge activity statements — BAS or IAS — with the ATO that contain GST, PAYG and other business information.
AccountRight makes the reporting process easier for you. You can choose to lodge your activity statements online using AccountRight, or do it manually with the help of MYOB's BASlink tool.
Lodge online
If you're using AccountRight 2016.3 or later, and your company file is online, you can lodge your BAS or IAS online, straight from AccountRight.
There's a one-time easy setup, and no paper forms to worry about - you'll also get quick confirmation from the ATO about your lodgement. Get started now
HTML
<div class="wistia_responsive_padding" style="padding:56.25% 0 0 0;position:relative;"><div class="wistia_responsive_wrapper" style="height:100%;left:0;position:absolute;top:0;width:100%;"><iframe src="//fast.wistia.net/embed/iframe/8zmwdkx009?videoFoam=true" title="Wistia video player" allowtransparency="true" frameborder="0" scrolling="no" class="wistia_embed" name="wistia_embed" allowfullscreen mozallowfullscreen webkitallowfullscreen oallowfullscreen msallowfullscreen width="100%" height="100%"></iframe></div></div>
<script src="//fast.wistia.net/assets/external/E-v1.js" async></script>
Lodge manually
If your company file isn't online, you'll need to prepare your activity statement using the ATO-supplied forms, or lodge the details electronically on the ATO's website.
To help you work out what needs to be reported, you can use MYOB BASlink. Learn about BASlink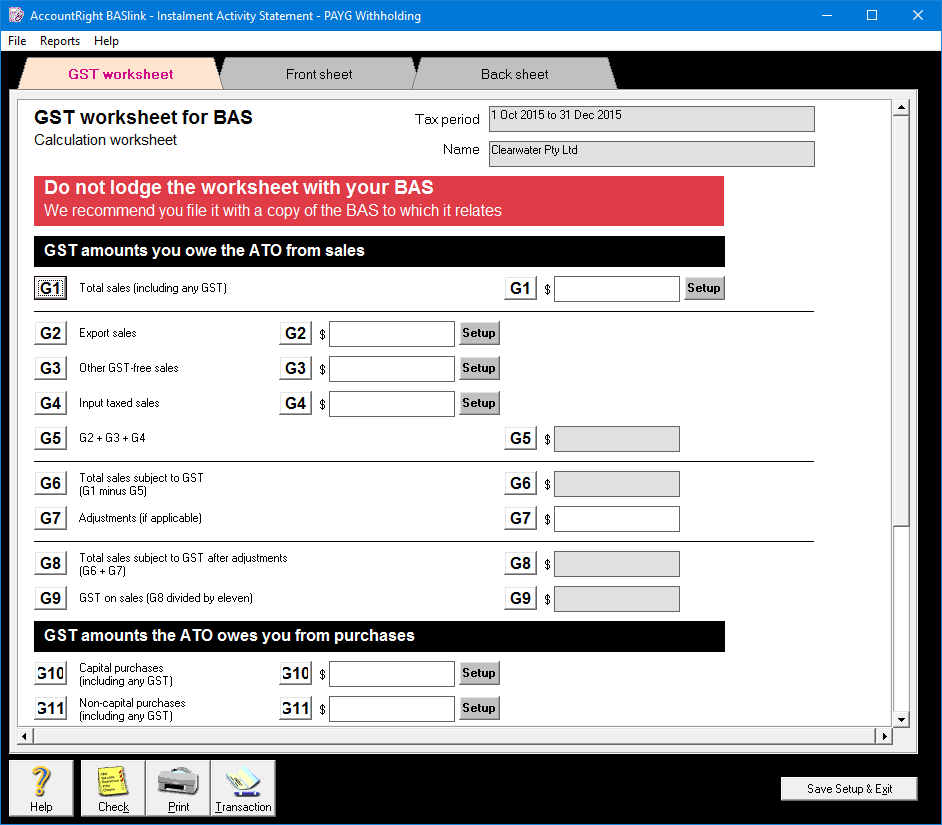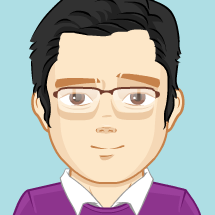 Brian is an AccountRight pro who's written lots of help topics - including this one. He'd love your feedback to help make it better.
HTML
<div style="display:none;" data-swiftype-name="keywords" data-swiftype-type="enum">bas</div>
</span>
HTML Wrap
| | |
| --- | --- |
| width | 15% |
| class | col span_1_of_5 |
HTML Wrap
| | |
| --- | --- |
| float | left |
| class | col span_1_of_5 |
Panelbox
| | |
| --- | --- |
| name | green |
| title | Related topics |
HTML
<p>
<a href="http://myob.com.au/business/training-events/training-courses-pricing/course-details/end-of-period-reconciliation-and-bas-1257830991122" alt="Book MYOB training now" target="_blank"><img src="http://help.myob.com.au/images/trainingad/classroom1.png" width="100%" height="auto"></a>
</a></p> 
Panelbox
| | |
| --- | --- |
| name | yellow |
| title | From the community |
RSS Feed
| | |
| --- | --- |
| titleBar | false |
| max | 5 |
| showTitlesOnly | true |
| url | http://community.myob.com/myob/rss/search?q=BAS&filter=labels%2Clocation%2CsolvedThreads&location=category%3AAccountRight&search_type=thread&solved=true |
HTML
<!-- PARTNER SEARCH SIDE BAR PANEL -->
<div class="partner-search-sidebar">
 <svg width="48px" height="48px" viewBox="0 0 48 48" version="1.1" xmlns="http://www.w3.org/2000/svg">
    <!-- Generator: Sketch 46.2 (44496) - http://www.bohemiancoding.com/sketch -->
     <defs>
         <linearGradient id="myob-icon-gradient">
             <stop offset="0%" stop-color="#6100A5"></stop>
             <stop offset="100%" stop-color="#EC0677"></stop>
         </linearGradient>
     </defs>
   <path d="M29.9996875,36 C29.9996875,32.692 32.6916595,30 35.999625,30 C39.3075905,30 41.9995625,32.692 41.9995625,36 C41.9995625,37.622 41.3475693,39.088 40.2995802,40.17 C40.2755805,40.19 40.2455808,40.198 40.221581,40.22 C40.1995813,40.244 40.1915813,40.274 40.1715815,40.298 C39.0895928,41.348 37.6216081,42 35.999625,42 C32.6916595,42 29.9996875,39.308 29.9996875,36 M47.707503,46.292 C48.097499,46.684 48.097499,47.316 47.707503,47.708 C47.5115051,47.902 47.2555078,48 46.9995104,48 C46.7435131,48 46.4875158,47.902 46.2915178,47.708 L40.8795742,42.294 C39.5255883,43.346 37.8456058,44 35.999625,44 C31.587671,44 27.9997083,40.412 27.9997083,36 C27.9997083,31.588 31.587671,28 35.999625,28 C40.411579,28 43.9995417,31.588 43.9995417,36 C43.9995417,37.844 43.3475485,39.524 42.2935594,40.878 L47.707503,46.292 Z M31.3330069,13 C31.3330069,17.552 29.3175871,21.558 26.2792961,23.882 L26.2792961,29 C26.2792961,29.552 25.8264837,30 25.268554,30 C24.7106243,30 24.2578118,29.552 24.2578118,29 L24.2578118,25.096 C23.0024701,25.672 21.6420111,26 20.2148432,26 C18.7876753,26 17.4272163,25.672 16.1718746,25.098 L16.1718746,29 C16.1718746,29.422 15.9030171,29.798 15.5007418,29.942 L5.3751268,33.52 C3.36981436,34.228 2.02148432,36.122 2.02148432,38.228 L2.02148432,42 L25.268554,42 C25.8264837,42 26.2792961,42.448 26.2792961,43 C26.2792961,43.552 25.8264837,44 25.268554,44 L1.01074216,44 C0.452812488,44 0,43.552 0,43 L0,38.228 C0,35.28 1.88806635,32.628 4.69590807,31.636 L14.1503902,28.294 L14.1503902,23.882 C11.1120993,21.558 9.09667944,17.552 9.09667944,13 C9.09667944,5.832 14.0836813,0 20.2148432,0 C26.3439836,0 31.3330069,5.832 31.3330069,13 Z M11.1181638,13 C11.1181638,19.066 15.1995406,24 20.2148432,24 C25.2301458,24 29.3115226,19.066 29.3115226,13.002 C28.7252922,13.102 28.1572551,13.17 27.6256047,13.17 C25.2099309,13.17 23.3117572,12.118 21.7006342,9.9 C19.9722651,11.694 16.9279097,13 14.1503902,13 C13.0688961,13 12.0864547,12.836 11.1383786,12.52 C11.1323141,12.68 11.1181638,12.838 11.1181638,13 Z M20.2148432,2 C15.9171675,2 12.3148825,5.626 11.3688278,10.478 C12.2400876,10.83 13.1234762,11 14.1503902,11 C16.7944917,11 19.9338569,9.448 20.8677826,7.676 C21.0396088,7.352 21.3751752,7.146 21.7451068,7.14 C22.1190814,7.132 22.4586908,7.328 22.6406244,7.644 C24.366972,10.63 26.1802434,11.58 29.1194816,11.018 C29.133632,11.016 29.1417179,11.016 29.1558683,11.014 C28.3796184,5.894 24.6701946,2 20.2148432,2 Z" fill="url(#myob-icon-gradient)" fill-rule="evenodd"></path>
 </svg>
 <h2>Find an MYOB advisor near you</h2>
 <p>Our wide range of MYOB advisors, including accountants, bookkeepers and consultants are here to help your business succeed.</p>
 <p><strong><a href="http://myob.com/partner-search/?intcid=findanadvisor" target="_blank">Find an advisor &gt;</a></strong></p>
</div>

CSS Stylesheet
.partner-search-sidebar {
     border-bottom: 1px #CACBD0 solid;
     border-left: 1px #CACBD0 solid;
     border-right: 1px #CACBD0 solid;
     padding: 0px 20px 20px 20px;
     text-align: center;
     width: calc(100% - 42px);
     position: relative;
     display: block;
     max-width: 80%;
     height: -webkit-calc(100% - 42px);
     height: -o-calc(100% - 42px);
     height: -moz-calc(100%-42px);
 }
 .partner-search-sidebar::before {
     content: '';
     height: 4px;
     width: -webkit-calc(100% + 42px);
     height: -o-calc(100% + 42px);
     height: -moz-calc(100% + 42px);
     top: -10px;
     width: calc(100% + 42px);
     left: -20px;
     background: linear-gradient(to right,#6100a5,#8241aa,#b93499,#ec0677);
     position: relative;
     display: inline-block; 
}