https://help.myob.com/wiki/x/AbOyAQ
Close
How satisfied are you with our online help?*
Just these help pages, not phone support or the product itself
Very dissatisfied
Very satisfied
Why did you give this rating?
Anything else you want to tell us about the help?
You can stay in touch with your contacts by emailing invoices, statements, bills and more.
From AccountRight 2016 onwards you can send emails directly, without the need for email software. Or, you can choose to send emails using Microsoft Outlook, if it's installed on your computer. See Choose how to send emails.
How to email
Typically, you enter the transaction you want to email and then click Send to > Email before recording it. The transaction is automatically recorded and you can then change the default email settings before sending it.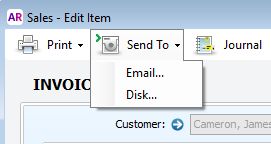 You can also send your emails in a batch. You might do this for your monthly statements or employee payslips. e.g. Sales > Print/Email Statements >Emailing tab.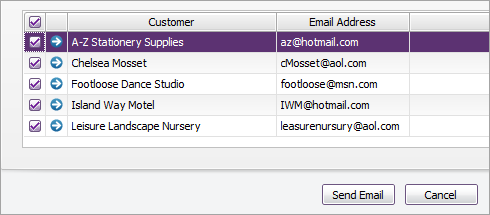 More details
See these topics for more details about emailing specific documents:
Emailing attachments
When emailing an individual sale or purchase, you can attach another document or file to the email. Just click Attach on the Email window and select the additional attachment.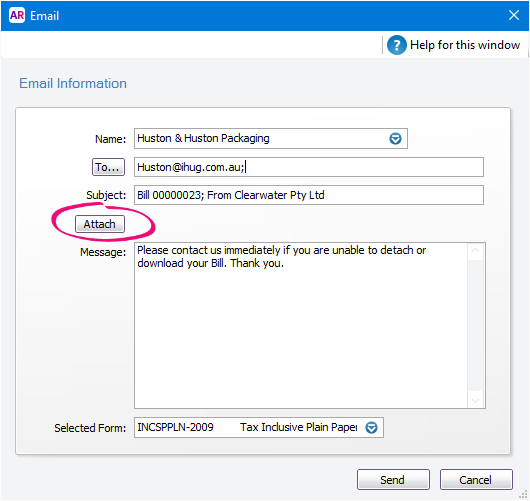 Email addresses
The email addresses in your contacts' cards are used when sending emails. Click To if you have additional email addresses specified in a contact's card which you want to use. Or you can type email addresses directly into the To field, and use a semi-colon (;) to separate multiple addresses.
FAQs
How do I resend a form I've already emailed?
How do I resend a form I've already emailed?
If you need to resend a transaction, redisplay it and then click Send To from the transaction window. For example, to reprint a sale, find it in the Sales Register window and click the zoom arrow to display it in the Sales window. Then click Send To.
If you need to resend a few transactions look for the Print/Email...buttons in the relevant command centre. For example, to reprint a few sales, click Print/Email Invoices in the Sales command centre. If the transactions aren't listed in the Review... window, click Advanced Filters and deselect the Unprinted or Unsent Only option.
Can I CC an email to another recipient?
Can I CC an email to another recipient?
While there isn't a CC field, you can include multiple email addresses in the To field when sending the email. Just make sure the email addresses are separated by a semicolon and there are no spaces.
If you'd like to see a CC field added to AccountRight, vote for this idea on the AccountRight Idea Exchange.
Where do I set my my email "reply-to" address?
Where do I set my my email "reply-to" address?
If you send emails directly from AccountRight (online company files only), you can set the reply-to email address in the email preferences (Setup menu > Preferences > Emailing tab > Reply-to Email Address). Note that you can only have one reply-to address for each company file, and it will apply to all emails.
If you send emails via Microsoft Outlook, emails are sent from the default email account. To change this:
Open Microsoft Outlook.
Go to the Tools menu and choose Account Settings.
Select the email account you want to make the default account, and then click Set as Default. (If the option is greyed out, it means that the account you've selected is already the default account.)
Click the Data Files tab and again select the email address you want to use then click Set as Default.