https://help.myob.com/wiki/x/dIFW
Close
How satisfied are you with our online help?*
Just these help pages, not phone support or the product itself
Very dissatisfied
Very satisfied
Why did you give this rating?
Anything else you want to tell us about the help?
Are you trying to open a company file from AccountRight v19 (or earlier)? You'll need to upgrade it first.
If you have multiple versions of AccountRight installed on your computer, you might be prompted to upgrade your company file when you open it (or restore a backup file) in the newer version. For example, if you were previously using AccountRight 2020.2, you'll see this message when you open your file in 2020.3: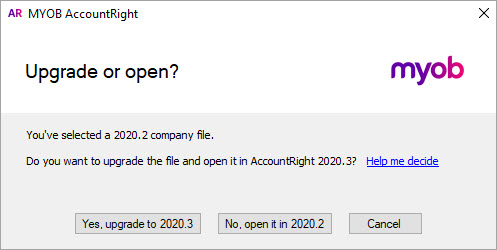 If you open a file from a version earlier than 2020.2, you'll see this message: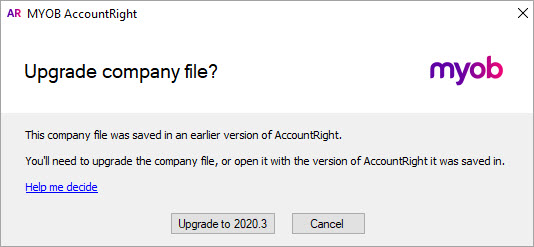 In either case, click upgrade to 2020.3 to upgrade your file.
If you work online, you must keep AccountRight up to date
If you're file is online, you must keep AccountRight up to date in order to keep working. Older versions of AccountRight are not supported online.
Why you might hold off from upgrading
Although you should keep AccountRight current, there are some reasons why you might not want to upgrade your file just yet, like:
You don't work online. If you work on an offline file, you can keep using an older version – but you'll miss out on compliance updates, enhancements, bug fixes and features only available online.
Others who access the file haven't installed the new version yet. Once you upgrade the file, anyone using an older version of AccountRight won't be able to open it until they install the new AccountRight version too.
You're an accountant, and a client has given you their file for you to review, and they haven't installed the latest version yet.
You don't have a licence for the AccountRight version you're opening the file in.
You use an add-on that doesn't work with the new version of AccountRight.
If any of these scenarios apply to you, hold off upgrading the file for now, click No in the upgrade message and open it using the AccountRight version that it was last upgraded to.
Otherwise click Yes in the upgrade message and AccountRight will do the rest to upgrade your file. The upgrade will usually take a few minutes.
While AccountRight is upgrading the file, Upgrading appears next to it in the library browser.

This disappears and the version number of the file is updated after the upgrade is complete.
Need a helping hand?
Try our Installation troubleshooting guide, or contact us and we'll be happy to help (in Australia call 1300 555 123 or New Zealand 0508 328 283).