Close
How satisfied are you with our online help?*
Just these help pages, not phone support or the product itself
Very dissatisfied
Very satisfied
Why did you give this rating?
Anything else you want to tell us about the help?
This information applies only if you're upgrading from AccountRight Classic (v19 or earlier).
Business Insights enhancements
You can now open Business Insights from any command centre to get a snapshot of what's going on in your business. Simply click Business Insights in the command panel.
Business Insights enables you to analyse key financial information using a range of interactive tables and graphs. You can use it to analyse areas of your business such as cash flow, profit and loss, money you owe and money that is owed to you.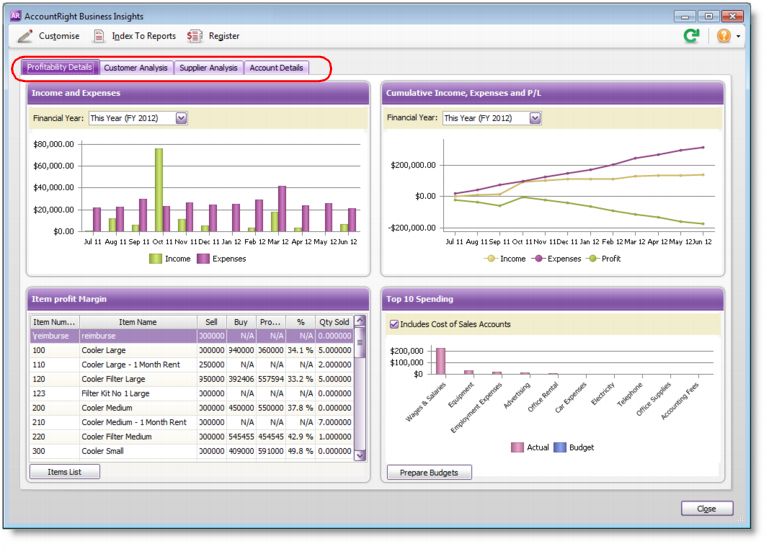 Customise Business Insights information
You can also decide what information shows in each tab, by adding and removing information panels. To do this, click Customise in the menu bar. Make your selections in the window that appears.
Sort Business Insights information
You can also find information specific to your needs by sorting table information. For example, click the relevant column headings to sort the list of outstanding invoices to find the most overdue invoice or the largest overdue amount.
For more details about the information presented in Business Insights, Australia | New Zealand.
Pay run improvements (Australia only)
[AccountRight Plus and Premier only]
Save the pay run
The pay run process has been improved, especially for runs that include many employees. Previously you would have had to complete a pay run in one go, otherwise all your changes would be lost. Now your pay run setup and changes can be saved when you close the Process Payroll assistant, and you can return later to complete the pay run.
Select employees for the pay run
There are also new filters that will help you select the employees to include in the pay run. For example, you can choose only full time or part time employees, or those who have a particular custom list entry.
Record a negative pay to correct overpayments
And if you accidentally overpay an employee, you can now make an adjustment by recording a pay with a negative net pay amount.
For more information, see Paying your employees (Australia only).
Importing and exporting data
Data import and export is now done through the Import and Export Assistant. The Assistant provides the same import and export choices as in previous versions, but in a wizard format that is easier to use. You can access the Import and Export Assistant through the File menu.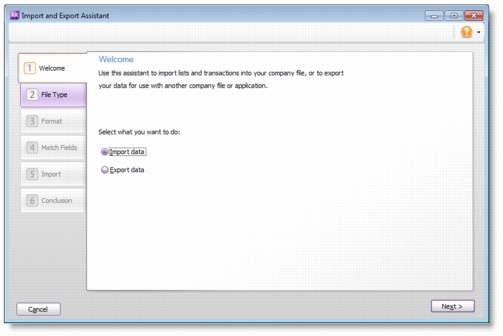 Year-end adjustments
You can now easily identify and enter year-end adjustments in your company file.
To enter a year-end adjustment, select the Year-End Adjustment option when you enter the transaction in the Record Journal Entry window.

Year-end adjustments are labelled [Yr-End Adj] in the General and All tabs of the Transaction Journal window. You can also filter reports to show year-end adjustments.
Related Topics
Easier ways to customise your information