HTML Wrap
HTML
<span data-swiftype-index="true">
HTML Wrap
Some AccountRight features are only available if your company file is online. If you're upgrading from AccountRight Classic (v19 or earlier) but choose not to put your file online, or you're not working offlineonline, you won't have access to the following great features:
Not in the cloud? Upload your file
If your company file is activated and you have an AccountRight subscription, you can upload your file to the cloud. Open the file you want to upload and then go to the status bar (or the File menu) and choose Go Online (Upload This File). You'll need to enter your MYOB account details. Learn more about putting your company file online.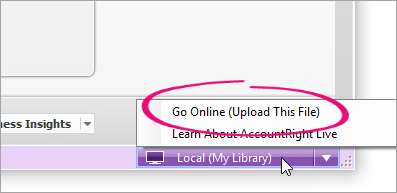 UI Text Box
Having trouble getting back online?
Try opening your company file from the Welcome window by clicking Open a company file then clicking Online (instead of clicking your file from the Recently opened company files list). If prompted, sign in to MYOB then choose the online file you want to open.
If you're still having trouble, contact us and we'll get you up an running ASAP.
HTML Wrap
| | |
| --- | --- |
| width | 15% |
| class | col span_1_of_5 |
HTML Wrap
| | |
| --- | --- |
| float | left |
| class | col span_1_of_5 |
Panelbox
| | |
| --- | --- |
| name | green |
| title | Related topics |
Panelbox
| | |
| --- | --- |
| name | yellow |
| title | From the community |
RSS Feed
| | |
| --- | --- |
| titleBar | false |
| max | 5 |
| showTitlesOnly | true |
| url | http://community.myob.com/myob/rss/search?q=online&filter=labels%2Clocation%2CsolvedThreads&location=forum-board%3AAccounting_Software_General&search_type=thread&solved=true |